13/11/2017
Final Coil are proud to announce that they are now endorsed by the wonderful Vocalzone.
According to Phil, "Over the years both Richard and myself have been enthusiastic users of Vocalzone lozenges, so we are particularly pleased to have this association with the brand."
You can check out the Final Coil artist page here.
14/09/2017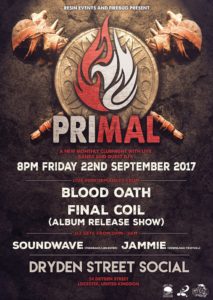 To celebrate our album launch, we'll be playing a special show at Leicester's Dryden Street Social (check out the event page here) on Sept 22nd alongside recent Metal to the Masses winners Blood Oath and finalists Ubiquitous. With DJs playing late into the night, this promises to be one hell of a showcase for the best Leicester has to offer in rock and metal.
12/09/2017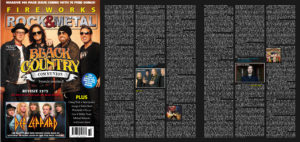 Check out this month's Fireworks Magazine for a detailed feature on Final Coil and a track on the free CD. Inside you'll find a detailed interview with singer / guitarist Phil Stiles. The magazine (issue 80) is scheduled for a Sept 18th release.
21/06/2017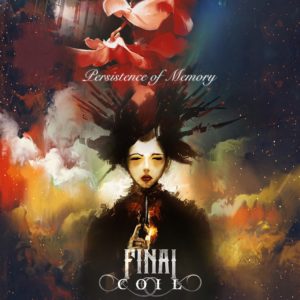 Pre-order the digital version of Final Coil's debut album via Bandcamp now (iTunes & Spotify released on 23/06/2017) and get 'Corruption' straight away!
19/06/2017
You waste my time' is the epic second single to be released from Final Coil's forthcoming debut album 'Persistence of Memory', which is set to be released worldwide via WormHoleDeath Records. Mixed by Wahoomi Corvi of Real Sound Studios and mastered by Magnus Lindberg (Cult of Luna), 'Persistence of Memory' is a richly varied album that provides the perfect introduction to the band.
An energetic track, 'You waste my time' showcases the band's more experimental side with synth drums, intricate vocal harmonies and deftly interwoven guitar lines all drawing the listener towards a pummelling finale that blazes with unexpected fury. A perfect example of the band's dynamic and ever-evolving sound, 'You waste my time' pulses with energy and yet retains the melodic depth that sits at the core of the band's song-writing.
The video, captured by Jay Hillyer (Cabin Boy Jumped Ship) sees Final Coil continue to seek out creative and talented individuals with whom to work, having previously collaborated with Andy Pilkington (Flotsam and Jetsam) on the stunning lyric video for 'corruption', and the result is a beautifully rendered clip that captures the raw energy of the band's live performance and adds a darkly cinematic edge reminiscent of clips by A Perfect Circle, Alice in Chains and Soundgarden. Filmed at Palmers Garden Centre in Enderby (during working hours, much to the bemusement of staff and customers alike), the clip provides what will be, for many, a first glimpse of Final Coil.
'Persistence of Memory' is to be released digitally on June 23 (with a US release of July 14 and on CD on Sept 22, with a Japanese release scheduled for Nov 29 via WormHoleDeath Records.
14/06/2017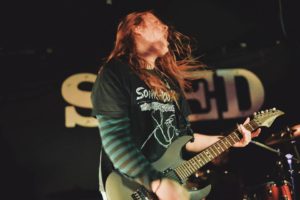 Phil recently had the opportunity to sit down and chat with Bernadette Barter of Indie Views. In a wide-ranging talk, Phil discusses the formation of Final Coil and the band's place in the wider music industry. you can check out the piece here.
10/06/2017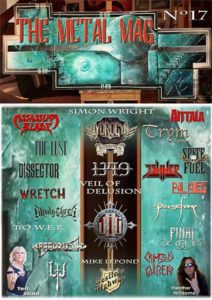 This month's edition of The Metal Mag offers up an exclusive interview with Phil about all things Final Coil. Check it out here.
30/05/2017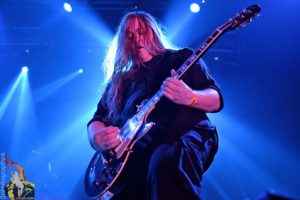 Exclusive interview with SkullBangerMedia Metalzine
Final Coil's lead singer / guitarist Phil Stiles was interviewed by Carla Morton for Finnish webzine SkullBangerMedia last week. The exclusive and detailed interview covers the band's trip to Italy to record at Real Sound studios and the astonishing artwork created by Andy Pilkington of Very Metal Art. You can check it out here:
24/05/2017

Final Coil are proud to announce their involvement with Imperative PR, who will be handling the promotion for the band's debut album, 'Persistence of memory', which is due out digitally on 23/06/17 and physically on 22/09/2017 via WormHoleDeath Records. Imperative are a professional and well-known company whose work with bands as diverse as Thus Defiled and De profundis makes them the perfect home for Final Coil.
Check out the band's page with Imperative here.
29/04/2017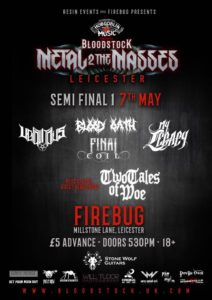 Final Coil are delighted to announce that they will be taking part in the Leicester Metal 2 the Masses Semi Final 1 alongside Blood Oath, My Legacy and Ubiquitous. The event also has a special guest headliner in the form of Two Tales of Woe and promises to be yet another sell out night at Leicester's esteemed Firebug Bar. Final Coil will be airing new tracks from the forthcoming debut album 'Persistence of memory' as well as a few live favourites and are hoping to progress tot he final with a chance of playing Bloodstock Festival.
Tickets can be purchased in advance (and we strongly suggest you so do) from WeGotTickets and you can check out the event page on Facebook here.
19/04/2017
Leicester-based alt-prog band Final Coil are pleased to announce that they have signed with WormHoleDeath records for the release of their debut album "Persistence of Memory".
Phil Stiles (singer / guitarist) statement:
"The label is the perfect home for us. Although they're known for heavier acts they have an amazing wealth of experience and they've been incredibly supportive of the musical direction we wanted to take on this album. That support included a huge number of conversations between label and band as Final Coil sought to develop the ambitious musical and lyrical themes of "Persistence of Memory". Thanks to [label manager] Carlo, we went into the studio fully prepared and confident that this was the best record we could possibly make. Carlo didn't interfere at all, but he offered careful guidance and his help was invaluable to us.
The collaboration between WormHoleDeath and Final Coil will allow the band to reach a global audience whilst benefiting from the support and experience of a label that prides itself on its independent spirit and the close relationship it forges with its artists. You hear so many horror stories about unscrupulous labels, but Carlo has taken exceptional care of us from the moment we first got in touch. We're very pleased to have an opportunity to work with a label who are so friendly and respectful and we can't wait to share our debut album with fans around the world."
Release dates
Digital release date : 23rd June 2017 (Wormholedeath/The Orchard)
U.S.A : 14th July 2017 (Wormholedeath U.S.A.)
CD release date : 22nd September 2017 (Aural Music Group)
Japan : TBA (Wormholedeath Japan/DiskUnion)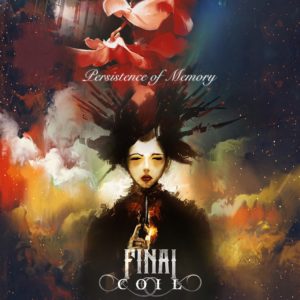 Tracklist
1. Corruption
2. Dying
3. Alone
4. You Waste My Time
5. Myopic
6. Failed Light
7. Spider Feet
8. Lost Hope
9. Moths To The Flame
10. In Silent Reproach
11. Alienation
About "Persistence of Memory"
"Produced by acclaimed Italian producer Wahoomi Corvi (CreTura, The Way Of Purity) at Real Sound Studios and mastered by the legendary Magnus Lindberg (Cult of Luna, Heads, Closet Disco Queen) at Redmount Studios in Stockholm, Persistence of Memory is the debut album from UK alternative rock / prog band Final Coil set for release via WormHoleDeath Records.
An eleven-track album loosely based around the theme of lost communication and dehumanisation in the face of an ever-increasing wave of technological innovation, Persistence of memory is a dark, hallucinatory journey into a world of broken familial ties, savage regret and seething rage against the dying of the light.
Moving deftly from the sonic firestorm of opening number Corruption (a song juxtaposing physical and moral corruption set against crushing, juggernaut riffs) to the Floydian disquiet of Alienation, Persistence of memory is an album of contrasts which finds its centrepiece in the progressive epic Failed light, a song that focuses on finding hope amidst the desolation. A deeply personal piece of music, frontman Phil Stiles states simply that "failed light is the best thing I have ever written – of all the songs on the album, this was the one we had to get right." At ten minutes, it is a lengthy work that ebbs and flows beautifully and it sees Phil and lead guitarist Richard Awdry trading solos and vocal harmonies in a manner that will have fans of Anathema and Pink Floyd in raptures.
Other highlights on the album include the synth-infused you waste my time with its stinging lyric focusing on self-absorption, the brooding Spider Feet (one of two songs written by guitarist Richard Awdry) and the desolate finale of alienation, a track that shifts from Phil's heart-broken and vulnerable lyric to a truly gargantuan tsunami of arcing riffs that close the album with dizzying power.
Another aspect of "getting it right" was the band's insistence on keeping the use of computers to a minimum. The band tracked the album through a beautifully restored analogue mixing desk at Real Sound Studios in Langhirano (Northern Italy) under the guidance of Wahoomi Corvi. "Wao was totally understanding from the start" says Phil of his relationship with the producer. "He was more used to producing metal bands, but when we played him the demos he realised straight away that we needed a warmer, more analogue sound and he worked hard with us to get good takes rather than edit us into perfection."
Similarly, the choice of mastering engineer was crucial. For Phil, there was only one choice: "I've been a huge fan of Cult of Luna for a long time, and last year I discovered albums by the bands Heads and Closet Disco Queen pretty much because they had worked with Magnus. Magnus understands the importance of a dynamic master and that was essential to me. So many records now are mastered to be as loud as hell, whereas I wanted people to be able to enjoy the space in the music and, if they want it loud, all they have to do is turn it up!"
An emotionally-charged debut album, Persistence of Memory is the work of a passionate, sonically ambitious band who draw upon elements of progressive, post-rock, metal and alternative rock to create something truly innovative.
For Phil the album "was the chance of a life-time. We worked incredibly hard to make the album flow from start to finish because we want the music to take the listener on a journey. Since I was very young, I would get goose bumps listening to records and just letting the music take me away from the real world for a short time, and I hope that our listeners can find the same escape in our music."
20/03/17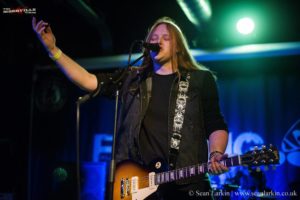 Final Coil are pleased to announce that they have progressed to the quarter finals of the Leicester Metal 2 the Masses competition. Playing against stiff competition, the band delivered a ferociously heavy set drawing upon material from their two, currently-available EPs (2011's Live with doubt and 2015's Closed to the light), as well as from their forthcoming debut album. Thus far, the band have remained guarded about the record, but the live tracks previewed suggest a focus upon vocal harmonies and taut, edgy riffs. You can read a review of the night here.
The band are now gearing up for their quarter final, which will be held at Leicester's Firebug venue on April 9th. You can see the event page for the heat here.
On April 7th the band are also set to lay waste to The Arches venue in Coventry where they will open the well-respected Mosh Against Cancer festival. Also playing that day are Pelugion, The Darkhorse and Dakesis, who headline the night. Not only an event in support of a great cause, Mosh Against Cancer is a showcase for the very best in UK talent and Final Coil are very excited and proud to be a part of it.
Check out the full line up below.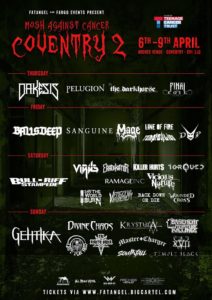 06/12/16

2016 has been a remarkable year for Final Coil. Following the release of the 'Closed to the light' EP in 2015, the band has been working hard behind the scenes to write a full-length debut album and we're proud to announce that, finally, we are entering the studio. Yesterday morning, the whole band flew out to Italy to spend three weeks at the respected Real Sound Studios, the same studio in which both CreTura and The Way Of Purity recorded. Featuring eleven songs, the album expands upon the experimentation of 'Closed to the light' whilst still offering up the trademark powerful riffs and twisted harmonies that have been at the core of the band's sound since the start. We'll be updating from the studio and sharing more details in the coming weeks, but we'd like to start by thanking all those that have supported us this year and we hope that you'll join us on the next stage of our journey. x
17/11/2016
Final Coil will be opening for symphonic extreme metal band CreTura when they play Leicester on Sunday. CreTura, who recently released their acclaimed album 'Fall of the seventh Golden Star' (reviewed by our good friends at SonicAbuse here) via WormHoleDeath records, are playing just a few dates in the UK, so this is set to be a very special and intimate show.
Check out this cool clip from the album:

The bill is rounded off with London's 'Immortal Machinery' (you can find out more here) who previously played at Leicester's Shed venue. A dark and uncompromising band who recorded alongside Megadeth's Glen Drover, Immortal Machinery are a passionate and creative band and we're proud to share a stage with them once again.
The show is promoted by Resin Events, the creative team behind Leicester's Uprising festival, and takes place on Sunday, 20th November at Duffy's Bar.