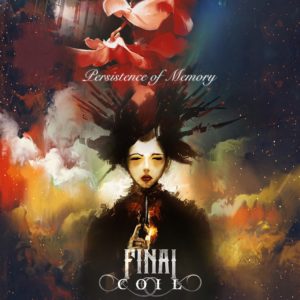 "Basically, the English cousins ​​of A Perfect Circle revived… Phil Stiles still does a good job, both on guitar and vocals, making it all very English and approaching with his vocal timbre that melodic and melancholic doom school of the 90s… while the guitar travels between the aforementioned grunge and prog territories." aristocraziawebzine.com 19/02/2018
"…the overall result of FINAL COIL's effort is particularly good, and I'm already looking for more of them." 7.5/10 – Rock Hard Greece (09/02/2018)
"Overall, this is an incredibly expressive Grunge album teeming with experimentation and musical diversity. Final Coil can confidently take pride in 'Persistence of Memory', as it is a fantastic album." 7/10 – AC Rock Reviews (01/02/2018) (see embed at base of page for full review).
"…an 11 track record that contains the atmospheric qualities that have become commonplace among post and art metal bands and heavy guitar riffs similar to that of Tool and Mastadon." – Stencil Mag Issue 47 (31/01/2018)
"The final song Alienation… is a post-rock masterpiece. An excellent ending for an overall great album." Jupiter Variation (28/01/2018)
"…a journey through sombre, lulling tones of deep souls searching and intense soundscapes that really made me want to keep hitting repeat." – Down The Front Media (03/01/2018)
"…an album to reflect upon whilst letting it wash over you." – Mad About Rock (31/12/2017)
"Deeply powerful and haunting…way beyond expectations." 10/10 – Jenny Tate's Blog (22/12/2017)
"…stepping into Kyuss territory while also maintaining and emotional relevance that would fit with Muse." Amplified Magazine
"If you, too, share an interest in the likes of Alice in Chains, Tool, Porcupine Tree and a nostalgia for early Floyd, then give it a go." 7/10 – Powerplay Rock and Metal Magazine Issue 204
"…you need to experience this album yourself and go to your own place with it. It's a thinker's album and it is an album to clear your thoughts, it is as complex as it is easy to listen to. Its darkness is subtle and the heaviness is tempered. It's on my shopping list, that's what it is…….." 10/10 – Paul Belcher, Metallum Sub Terra (10/11/2017) (see embed at base of page for full review).
"It manages to make the listener mentally travel, completely releasing the mind and introducing it into a particular world created by them." 8/10 – Giornale Metal (It)
"Persistence of Memory is a successful first album. The compositions, the quality of the musicians of Final Coil, the general harmony that emerges from the album, make a very beautiful discovery. If we add to this an overall artistic coherence that includes the visual work of the cover, this album deserves a lot of heart; And the group to count on a careful look for future productions." 17.5/20 – Aux Portes Du Metal (Fr)
"Thinking man's Post Metal…Final Coil is a very rewarding musical journey if you will take this challenge and I truly hope you do." – The Doorway To 26/08/2017
"Another band fighting against the tide of a world fueled by instant gratification through technological advancement. A band, too, who've developed from the raging assaults that characterized their early days of feedback and chaos into one that embraces "the true value of artistic endeavour," taking a refined and smoother path on their full-length debut; as a reference point, something like the lighter, progressive side of Opeth. Much of the ambiance comes from Phil Stiles' undemonstrative voice – rather than vocal histrionics, he adds a measured dose of calm and serenity to proceedings which, as the song titles suggest ('alienation', 'lost hope', 'in silent reproach') err towards the darker side. There's quite a seductive opening sequence, with the hypnotic, psychedelic vibe of 'dying' and the melancholic paced yet melodic 'alone' building on a repetitive riff. The heavier direction of 'myopic', all stops and starts, and bursts of distortion and reverb, shifts into a crunching march in the inevitability of 'moths to the flame', which takes a tranquil, mid-song change in direction. It's left to the atmospheric and gently throbbing 'alienation' to bring closure to an album that offers a sense of melody, heaviness and light, and shade dynamics. 8/10 – Powerplay Rock And Metal Magazine Issue 200
"Persistence of Memory is an unpretentious album, it prefers to engage more than amaze – every song always takes its time before expressing itself, and it does so with calm, never with a hasty decision. The ambient reminders are not few and all work, perfection." 79/100 – Insane Voices Labirynth (It)
"There's a label called WormHoleDeath? Surely the album I just got from them can't please me any more than finding that out. On a par, however, I get a truly stunning debut from a Leicester-based band who sound like they should have been hanging out with Kyuss and Alice in Chains back in the day. Too much awesomeness to mention and only a few minor hiccups along the way, 'persistence of memory' captivates not from the beginning, but from the start of second song, 'dying', a clean track that's a bit like Days Of The New minus the incessant, whiny yarling. Gold star from the teacher." 5/6 – Zero Tolerance Magazine Issue 79
"Final Coil, with their first long distance work, has succeeded in creating a world of rock notes that live in musical sunsets… Progressive and emotional, sophisticated and never over the lines: progressive in the most modern conception of the term, even though they leave other technical pieces of writing for a much more emotional and felt proposal." 7.8/10 – Metal Eyes IYEZINE (It)
"I think it was the best decision to keep a eye on change and progression. Life is change. Everything is changing. I would've been silly to keep it all the same. As for me the band has found a way to maintain the hard riffs but to build them into the music a intelligent way to give room for atmosphere and darkness." – Heavy Metal Underdogs
"After making an impact with their earlier EP releases, Final Coil have pulled out all the stops on their full length debut, and created an album that is likely to be troubling the 'Best Of' lists come the end of 2017. Equal parts atmospheric, beautifully haunting and mind numbingly heavy, with no weak link to be found, 'Persistence Of Memory' is a release that should certainly be added to your "must buy" list." 9/10 – Totally Tankered
"It's obvious there's a ton of potential here, and if the band can tighten up their writing, they could actually be that next big thing we hear so much about but rarely encounter. Warts and all, Final Coil is definitely a band to watch closely in the future. I suggest checking this out." 3/5 – Angry Metal Guy
"I guess if you take Watching From a Distance-era Patrick Walker and tag in Jerry Cantrell on guitar and have Maynard Keenan helping craft the phrasing and tone, you'd have Final Coil in a nutshell." – Third Eye Cinema
"'Persistence Of Memory' is a pretty good debut album… musically it's even very good. It radiates calm, a lot of rest." 60/100 – Rockmuzine (Nl)
"This is a disc composed of 11 long tracks where the Grunge of bands like ALICE IN CHAINS, or even the less wild NIRVANA, shakes hands with certain touches of the progressive Metal-Rock of TOOL." 7/10 – Necromance
"Final Coil have released a highly impressive debut album with a brilliant atmospheric sound which sits comfortably between alternative rock and progressive rock and should appeal to fans of both genres." 8/10 – Musipedia of Metal
"Discreet "wall of sound" supported by melodic cantatas, [it has a] dark mood but [is] at the same time fascinating…" 65/100 Metallized.it 14/01/2018
"The harmony between bass and drums supports and opens the spaces for filling and overlapping guitars. Making an analogy with football, it is that team in which defense, midfield and attack are cohesive and work for the collective, without depending on only one player, who stands out from the others (laughs)." 8/10 – Arte Metal (Pt)
"A ride through the crowded city center with Final Coil in the player…the view from the car window becomes a view into another world…" 7/10 – Mega-Metal.de (De)
"Final Coil write great riffs, deliver engaging beats and rhythms and Phil Stiles can really write a skating rock chorus." 2/5 – Pure M
"I like the album. A lot. It's a lot more polished and refined than previous offerings, and it shows a lot of band growth over the years, allowing the band to meld together multiple genres into a coherent, crushing album." – SonicAbuse
"It's hard to choose a favourite song because this album rocks. Killer sound. A Must Have! 10/10" – Piet de Ruyter (Radio Diabolus)